This year, 6th Virtual BAistanbul Conference took place on virtual platforms with speakers and participants all around the world. 
As the only comprehensive business analysis event of the region, more than 450 attendees from different sectors joined the conference. We gathered with the theme "Virtual Business Analysis" and also discussed lots of concepts such as; Remote Business Analysis Techniques and Tools, Agile Business Analysis, Cybersecurity Analysis, Data Analysis & Sensemaking, Design Thinking, Strategy & Design and Cybersecurity Analysis.
We prepared for the virtual experience for months & anticipated the excitement of BAistanbul's virtual experience. It was a great full 3 days of learning, new insights, new perspectives, fun and interaction.
Attendees networked on the conference platform Whova and interacted on the Mural Boards during the breaks; suggested books to each other, shared their takeaways from the sessions and so on. 
We are so glad to be creating this global environment for business analysts all around the world…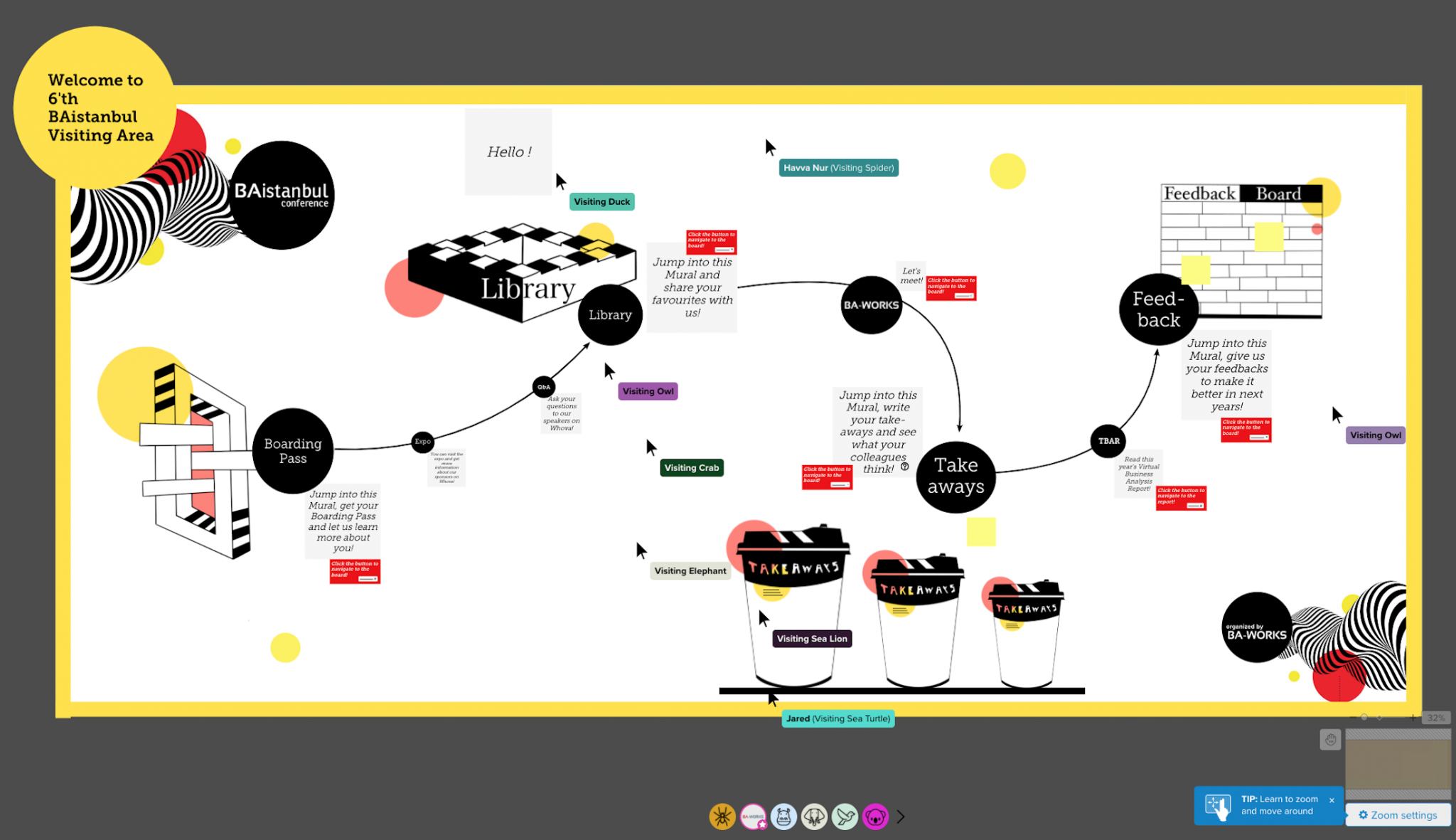 Main sponsors of the conference were Intertech and Akbank. IIBA was the main collaborator of BAistanbul. 
DesignThinking Academy & Sprintbase were Event Partners and also Balsamiq, Creately, BA-Cube, Modern Analyst, Wtech & Whova were the Supporting Organizations. We'd like to thank all our sponsors again.
We wanted to summarize who we have listened to during these 3 days.
The conference started on Whova with the Opening Speech of Emrah Yayıcı & Meltem Bayrak; "Metaphysics of Business Analysis & Design Thinking: Digital Beings @ 3rd Place".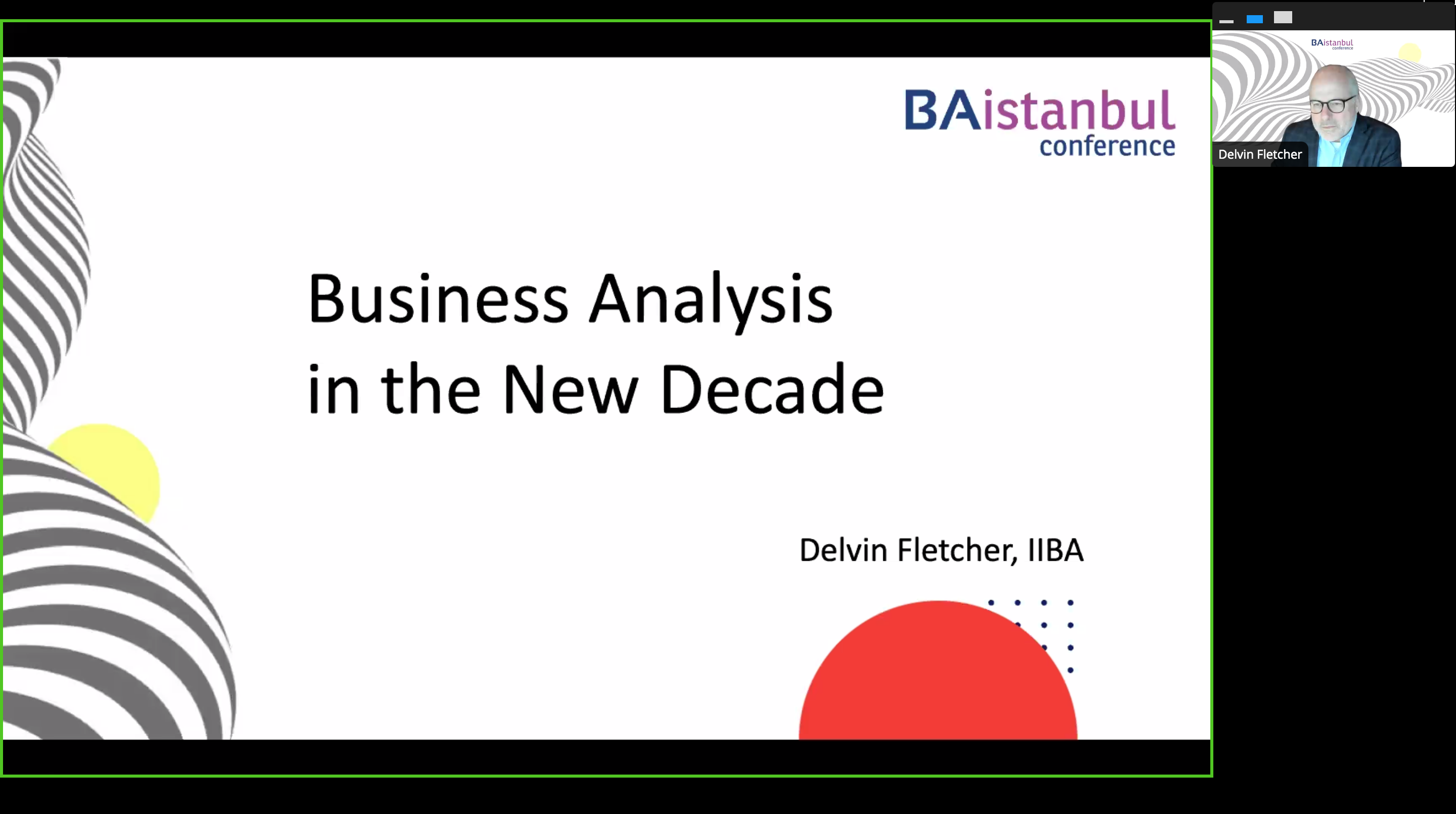 Then, parallel sessions started after Delvin's Keynote. 
-Founder & Senior Facilitator of DesignThinkers Academy, Arne van Oosterom delivered his speech "Leading Towards an Unknown Future"; he explored how to lead our organizations into an unknown future in his speech.
-On the parallel track, Founder of With Great People, Richard Kasperowski delivered his speech "Product Inception Canvas: How to Build the Right Thing". Attendees gained deep insights for actionable next steps for their products. 
–Joe Newbert, Chief Training Officer of Business Change Academy, delivered his speech "Unleashing the Power of Strategic Analysis".
–Christina Lovelock, Business Analysis and Solution Architecture Manager of University of Leeds, spoke about "Leading the Business Analysis Service in Virtual World".
-After the speaker sessions, IIBA Chapter Leaders' Panel got started and the panelists discussed  "How Will Business Analysis Trends Evolve in the 2020s?", they also benefited from Miro for the panel discussion and created an interactive environment.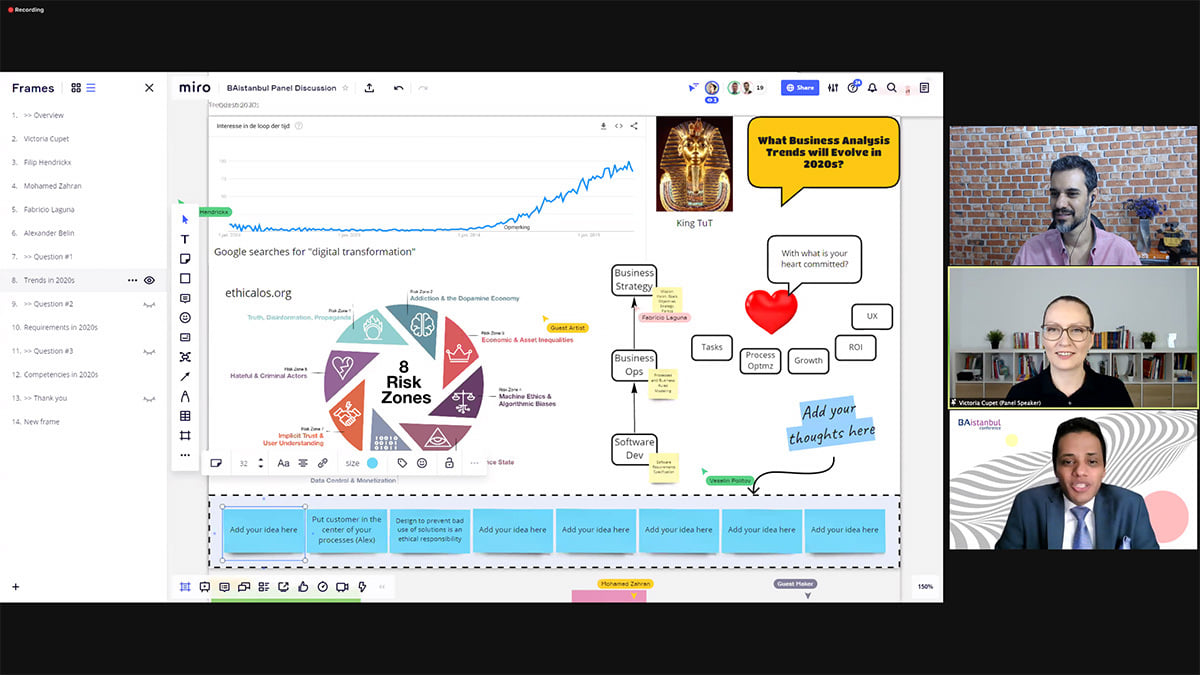 -Senior Manager of IQbusiness South Africa, Johan Steyn's topic was  "Will Your Next Business Analyst will be a Robot?"; he handled the subjects of Artificial Intelligence & Machine Learning in the Business Analysis context.
-CEO of BA-Squared, LLC, Angela Wick's speech was "State of Agile Analysis".
Angela talked about what the data insights of the research tells us, how to discover & understand the anti-patterns of agile analysis and team practices, connecting analysis to agile team results and agile values.
-Second day of the conference started with the Panel "Now & Future of Business Analysis";
Pınar Cinali, Partner of BA-Works was the moderator of the panel & the panelists were:
-Deputy General Manager of DenizBank, Dilek Duman
-Digital Banking Vice President of Akbank, Emel Arseven
-Chief Information Officer of Yıldız Holding, Gül Erol
-Founding President of Women in Technology Association, Zehra Öney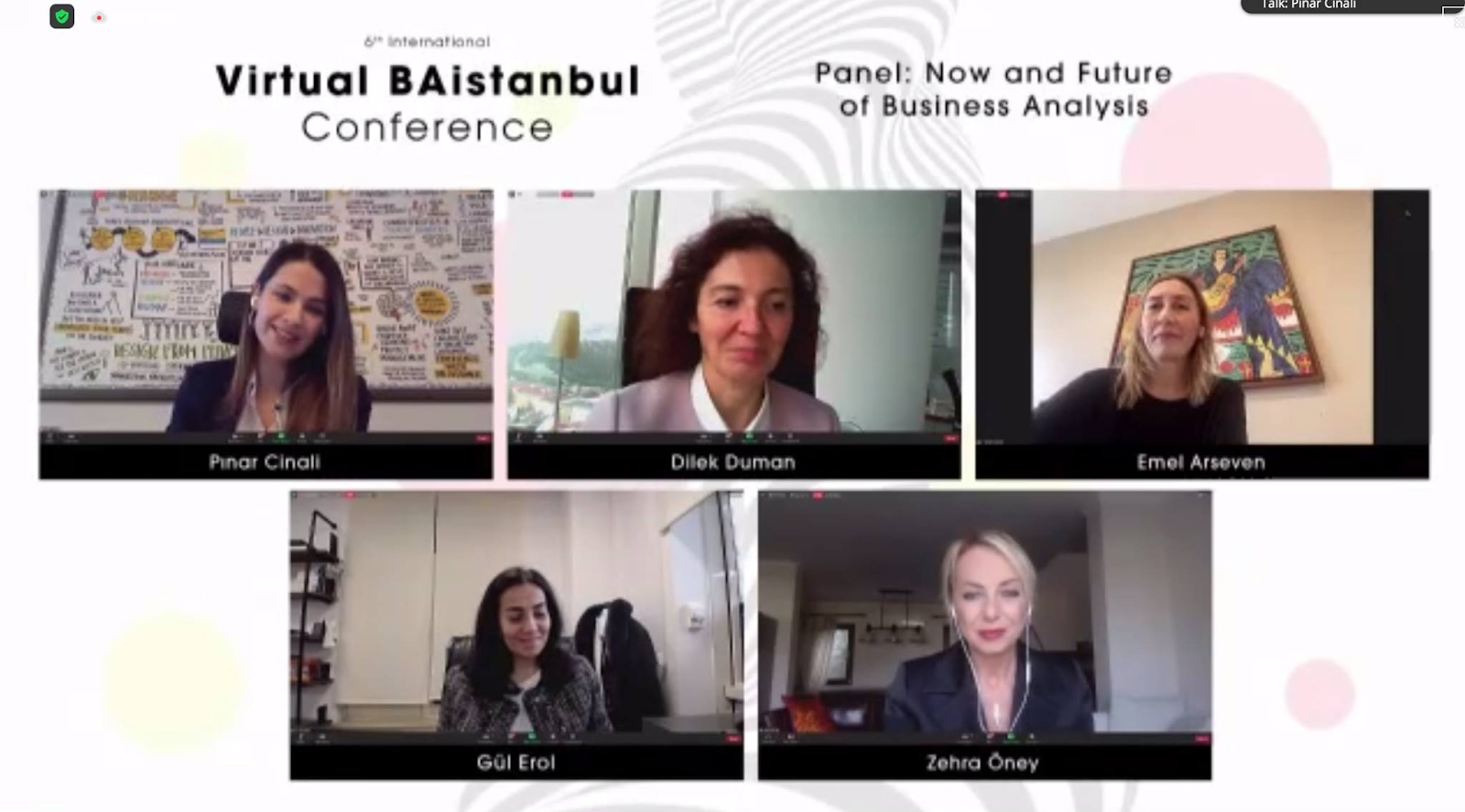 –Ryan Folster, Consulting Services Manager of Dimension Data, delivered his speech "Simplicity: The Art of Doing Less and Achieving More in a Virtual World"
–David Klimek, Chapter Area Lead of Česká spořitelna, spoke about "Agile Transformation from Business Analysts Perspective in a Bank".
He benefited from his own agile experiences at Ceska Sporitelna during his speech & focusing on agile transformation from a business analyst perspective.
-Author of "This is Service Design Doing", Adam Lawrence delivered his Keynote speech:  "Service Design in a New Digital Reality".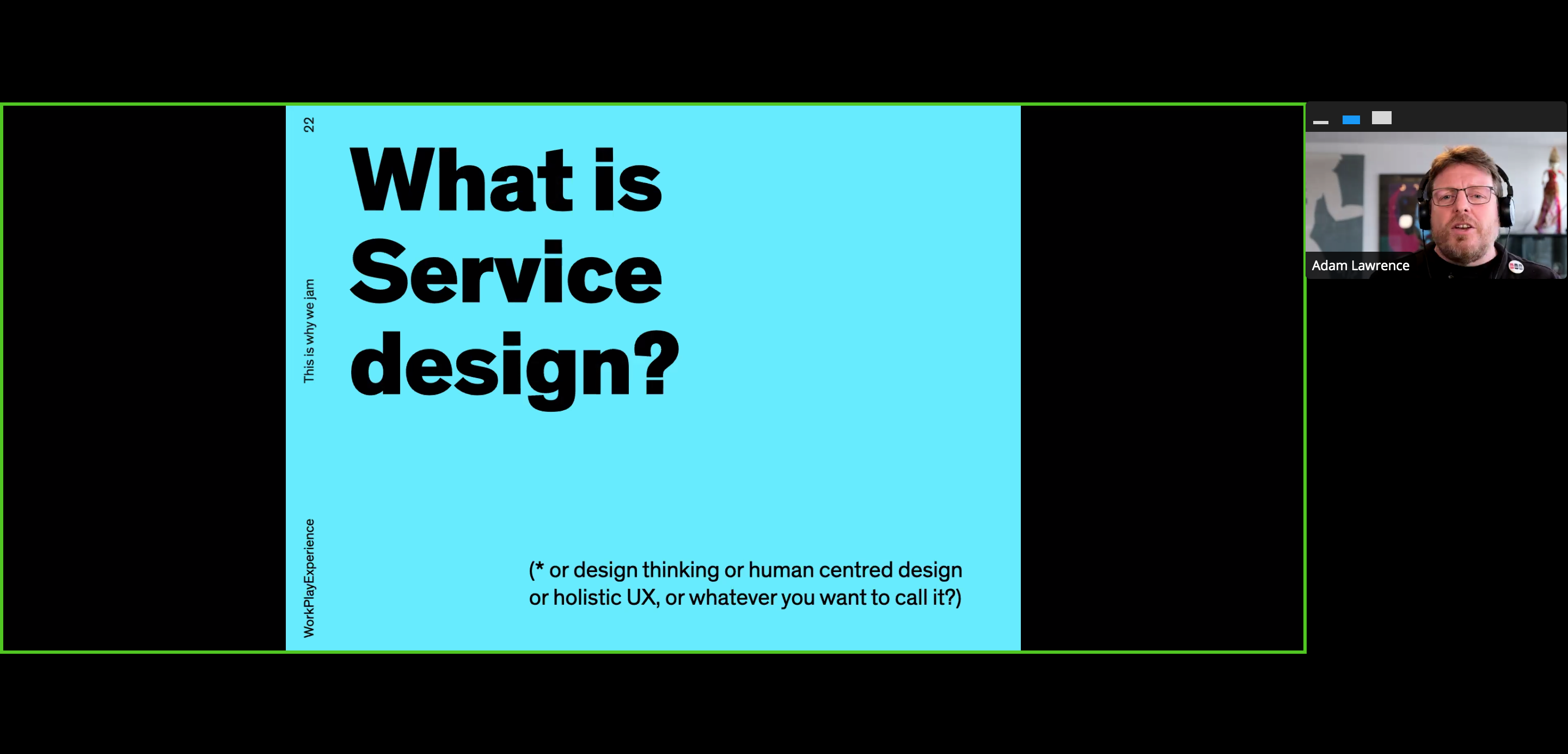 He discussed how to adapt to the world of online collaboration. What is working, what is better, and what needs to change?
–Ian Richards, Head of Business Analysis at Capita, People Solutions delivered his speech "Business Analysis: Striving for BA Excellence".
In his "BA Mentoring & Coaching" session, he shared the importance of investing in your own professionalism and the leadership of self and of others.
-Managing Director of masVenta Business GmbH & BA-DAY.com, Rainer Wendt talked about "Neglecting Cybersecurity on large projects produces painful boomerangs – for sure!".
-Executive Vice President of Intertech, Ayşe Büyükkaya, delivered her speech "Agile Business Analysis Transformation at Intertech".
-Founder of Sprintbase, Adam Billing delivered his speech "How to Solve Big Problems Faster with Remote Design Thinking".
He explored the advantages of doing innovation while working virtually and demonstrated how to run design projects remotely.
-IIBA Director of Chapters & Membership Engagement, Jared Gorai delivered his speech "Where Are We Going?".
-VP Business Competence and Services of Intellias, Yuriy Gaiduchok delivered his speech "Quality Attributes Insights" at his BA Mentoring & Coaching Session.
He focused on the importance of designing product quality attributes (also known as non-functional requirements) while keeping the balance between agility and taking risks at his speech.
–Gizem Kedici Özbayraç, Head of Business and Agility Roche Türkiye, spoke about "Application of Agility to Digital Innovation" at her session, also mentioned about their own experiences at Roche Turkey & how they applied agility to new areas while responding to external changes like Covid-19.
-Last speaker session of Virtual BAistanbul Conference was with GK VanPatter's keynote, who is the author of "Rethinking Design Thinking: Making Sense of the Future that has Already Arrived".
GK presented some of the lessons learned from making the book and some of its key recommendations.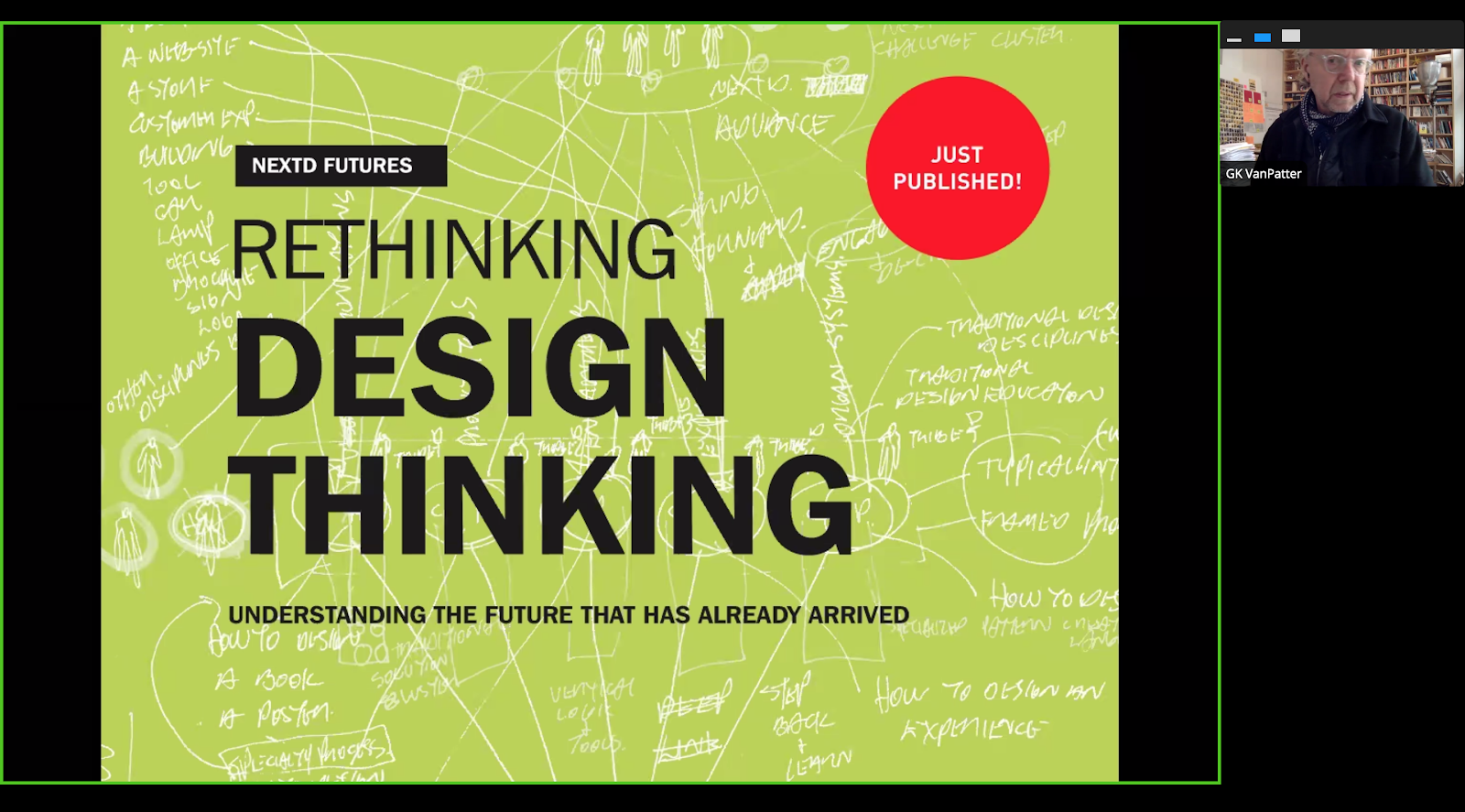 *If you'd like to read more about the takeaways of the sessions, you can read our other blog post "Looking Behind BAistanbul 2020".
On the third day of the conference, we gathered for the workshops on multiple virtual platforms:
-Experiential Workshop: How to Create Impact at Scale with Remote Innovation (With Adam Billing, Duncan Brannan, Steve Baker)
-Win the Stakeholders Management Game Workshop (With Victoria Cupet)
-A Radical New Way of Working Workshop (With Arne van Oosterom, Marc Bolick, Yuen Yen Tsai)
-Getting Started in Service Design Doing Workshop (With Adam Lawrence)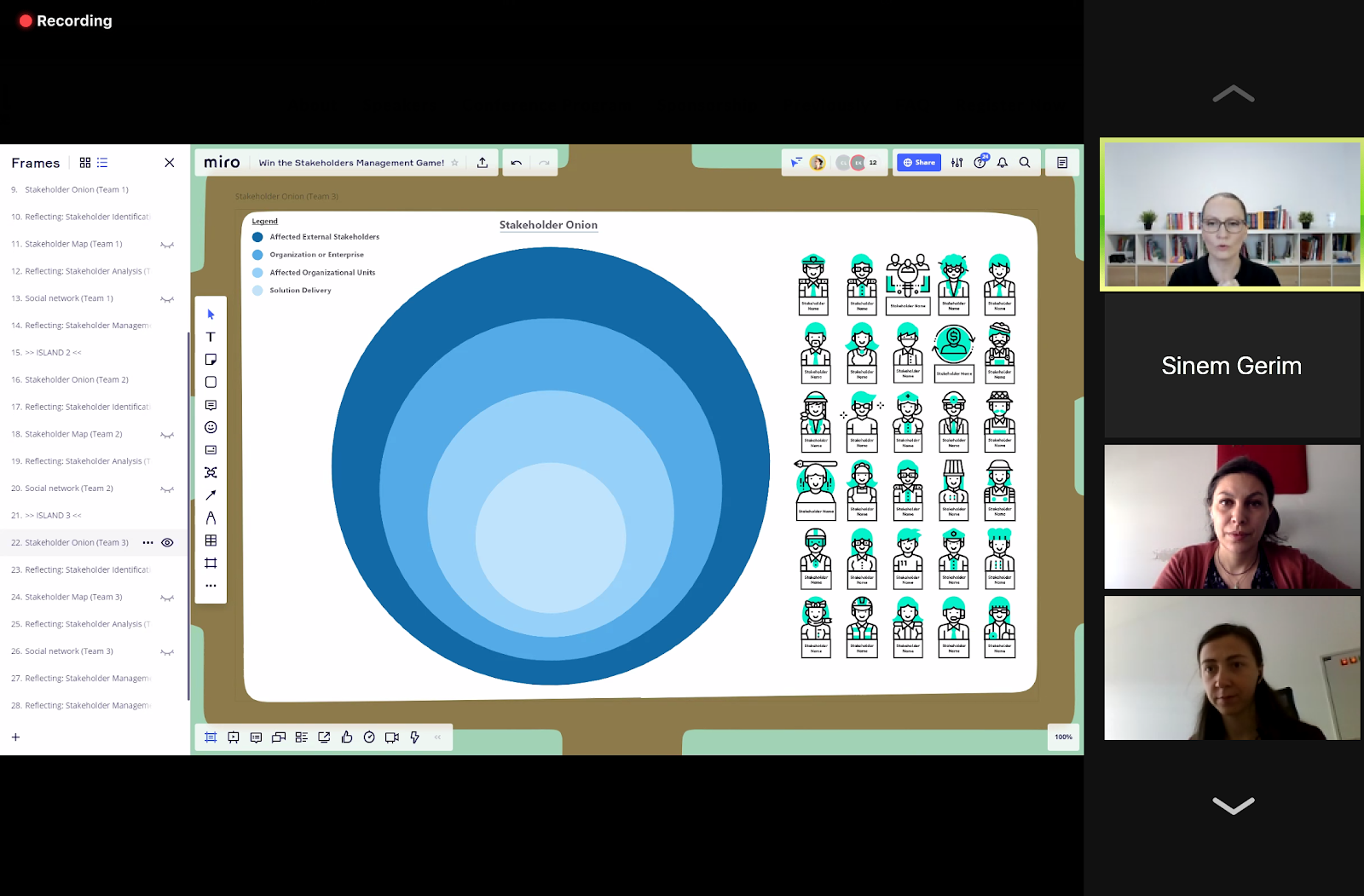 We'd like to thank all the speakers and participants!
You can reach the conference's photographs from here.
We hope to see you at the BAistanbul 2021 Conference…